"I just wanted to say 'thank you' for
all of your help in preparing our presentation.
Your assistance and editing was invaluable – your warmth was genuine and appreciated.
I hope we can
work together
again soon."
Specialties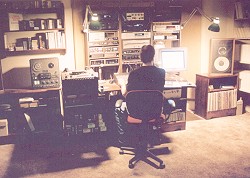 The special services available here aren't what you might normally expect to find at an audio production studio. They are the result of a wide range of experiences in a number of related activities.

Private coaching in voiceover work
Per Hour $85; Half-Hour $45
Top-flight professionals earn more than $350 per hour. Learn what they do that makes them stand out above the rest.


Private coaching in public speaking
Per Hour $85; Half-Hour $45
Learn to conquer America's #1 fear, harness the power of the spoken word – and get paid for it!

Private coaching in stagecraft
Per Hour $85; Half-Hour $45
What to do after the announcer says your name.
In any form of public performance, how you present yourself can make an amazing difference in your popularity – and your income. Gain the powerful competitive advantage that others ignore.

Editorial Services
Per Hour $85; Half-Hour $45
Professional writing, editing and proofreading – anything from a business card to a full-length novel.

Private consultation in the art of operating a small business
Per Hour $125
Every year, approximately 35,000 businesses fail. Yours doesn't have to. Learn the inside secrets that separate the winners from the losers. Note: 2017 marks King Street Recording Company's 50th year in business. It took more than technology to make that possible.