"My music
sounds great!
Thanks for doing such a good job!"
Music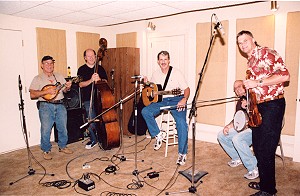 For musicians, vocalists and songwriters, professional audio production can make the vital difference in how well you - and your music - are perceived. Although a high-limit credit card can purchase basic recording equipment, experience won't be part of the package. In the final analysis it's the experience, not the equipment, that's most important.
For a CD you can be proud of, it's easier, simpler, cheaper and far more effective to use an established production studio. With that said, consider what you want to record and what you'll use the recording for.

Getting Booked
If you want to perform your music for live audiences, a demo CD will help you get booked. Three, four or five songs should be enough to allow someone to make a booking decision in your favor. If you play music that's already well known, most of the tunes on your demo should be up-tempo with the best-known song first.

Getting Signed
If you write original music and want either a recording or publishing contract, a professional demo will enable you to present your work effectively to the necessary contacts. Once again, put your strongest material up front.
Getting Rich
As long as you're in the studio anyway, consider recording an entire album. There are two very good reasons for this.
1. Forty years ago, three guitarists from the West Coast decided to form their own record company rather than sign with one of the major commercial labels. They rented a studio, contracted specialty companies for pressing the records and printing the covers, then placed ads in popular music magazines and began selling their records by mail. Others began to follow their example. Now, independently produced original music is a $50 million per year market. With a little effort, you can have your share.
2. If you prefer the traditional approach, a record company representative receiving your album, rather than just a demo, will know immediately that you're serious enough about your music to have already made a substantial commitment. The more you demonstrate your faith in yourself, the more likely someone will share that faith by investing in you and your creativity.
Included with Your Recording Session
| | |
| --- | --- |
| | An audio technician with many years of experience as a professional guitarist, singer and songwriter – and 50 years in professional audio |
| | If desired, competent coaching can be provided in guitar, voice and musical arrangement technique. |
| | An 8-track digital recording system combining Macintosh, Mackie and ProTools, expandable to 24 tracks. Many musicians play more than one instrument, so a trio can sound like a larger group. Multiple tracks also permit making revisions at a later time without disturbing anything already recorded. |
Fees
$65.00 per hour, one-hour minimum
After the first hour, sessions are billed by the quarter-hour.
Terms
Cash or check
Fine Points
| | |
| --- | --- |
| | For vocalists who don't play an instrument and have no access to musicians, several companies provide pre-recorded music tracks for an amazing variety of songs. Pocketsongs.com® is just one; there are many others. |
| | Ask about neatly designed and printed CD labels, covers and tray inserts. The better your CD looks, the more likely someone will actually listen to it – or buy it. |
| | IMPORTANT! Before anyone else can do anything for you and your music, you must do something for yourself. If you don't make a concerted effort at doing something with your music, you'll live out the rest of your life wishing that you had. |
How to Prepare for Your Recording Session For an enjoyable and productive session, follow these hints:
Decide in advance exactly what you will sing or play.
Determine the final order for your tunes, then rehearse them in that sequence until you can perform them in your sleep. For a guitarist using a capo, grouping same-key songs together makes it easier to keep in tune.
If you'll be using music charts or lyric sheets, bring extra copies to the studio for the recording engineer. Someone else may hear an error that you miss. It's faster and more economical to record another take immediately.
On the day before your session, check your instrument(s) for the condition of guitar strings and cords, amplifiers, rosin, valve oil, reeds, power supplies for keyboards, extension cords, etc.
On the night before your session – sleep! Although there is a certain "show biz" mystique about working long hours without rest, your performance will suffer as a result of fatigue.
On the day of your session, arrive early to become comfortably acclimated to the studio environment.
Listen carefully to all playbacks, then direct all mixing.